Editorial
Welcome to the first edition of the Dignity Press Newsletter!
Dignity Press was created by a team of Human Dignity and Humiliation Studies (HumanDHS) volunteers, who saw the abundant results from research and education by HumanDHS members. Our members have a lot to say about human dignity and related topics, worthwhile to be published. Now they have a platform to publish books and (hopefully soon) also journal articles.
We love books, and especially we love beautiful books. Dignity Press books are thoroughly edited and carefully designed to meet high publishing standards. As we use the cost-efficient print-on-demand technology we are able to keep our running costs low and thus can offer books at affordable prices, while paying higher royalties per book as most other publishers.
Our books are available from our web site, at Amazon, Barnes & Noble and at many bookstores. Please check the Dignity Press website for more information.
Dear friends, may I ask for your support? No, it's not about money. But maybe you can imagine to contribute some of your time in 2013 to help Dignity Press authors to get their books published. I would like to expand the team of Dignity Press volunteers by people who review incoming manuscripts, help authors develop their raw manuscripts into fine books, or take part in editing and design. Finally, help with marketing of our books is urgently needed. This could include help to establish our presence at social networks, to get books reviewed by other media, and to spread the word in other ways. For me it is fun to volunteer for Dignity Press. Maybe the same for you?
To all authors, friends and supporters I like to send my best wishes for 2013, also on behalf of Linda Hartling, Director of Dignity Press and of the Human Dignity and Humiliation Studies network.
Uli Spalthoff
Director of Operations
Dignity Press
New Books
At Dignity Press, we are proud to have published our first books in 2012. In sync with the start of 2012, the first book was finished. "A Dignity Economy", by Evelin Lindner carries the sub-title: "Creating an Economy that Serves Human Dignity and Preserves Our Planet." I do not need to introduce Evelin to you. For more information on our books and the authors, click on their cover image on the right.
Following this comprehensive and rather scholarly book, we published a small book by Arctic Queen, from Norway. "The Pearl" is a touching novel exploring the twilight zone between dream and reality, featuring a woman who manages to turn her loss into beauty, as she develops her talents and creative energy. A typical gift book you want to give away to a friend who needs a hug.
The next publication, like our first one, reflects on the need for renewed economic common ground. As Howard Richards tells about his book "The Nurturing of Time Future": "I have decided to write a short book about everything, addressed to educated people of good will who see the need for paradigmatic change." In this book, Howard Richards simultaneously contributes to belles lettres, to philosophy, and to social science.
Near the end of last year, Dignity Press expanded by publishing its first poetry book. "Rare Flower", Ada Aharoni's collection of Live, Love and Peace Poems. It powerfully denounces the concept and practice of war. As a woman and mother, Ada Aharoni condemns the killing of soldiers by involving them in war situations.
The second book published under our imprint World Dignity University Press is Victoria Fontan's "Decolonizing Peace". In this book, Victoria Fontan questions pre-established assumptions that exist in peace and conflict studies and brings forward an alternative epistemology that relates to non-conventional initiatives for peace in various parts of the world.
Please turn to www.dignitypress.org for more information about our books.
Forthcoming Books
The start of the New Year is a busy one at Dignity Press. Just now we are in the final editorial phases of four books:
Michael Prosser, Mansoureh Sharifzadeh, Shang Zhenyong (co-editors): Finding Cross-Cultural Common Ground
Deepak Tripathi: A Journey Through Turbulence
Pierre-Amal Kana: Afghanistan - Le rÍve pashtoun et la voie de la paix
Howard Richards, Joanna Swanger: Gandhi and the Future of Economics. Edited by Ivo Coelho.
And there are even more to come in the first half of 2013. More information will be posted at www.dignitypress.org at the time of publication.
Authors
In this newsletter I like to celebrate Ada Aharoni who on September 4, 2012 received the Shimon Peres Award for Peace Culture and for Bringing Jewish and Arab Hearts Together. The picture below is from the award ceremony.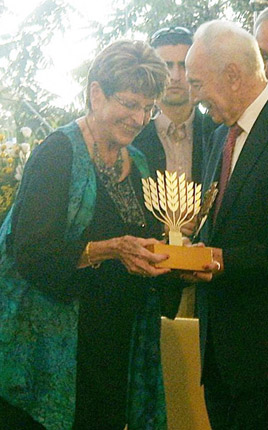 Ada Aharoni is an internationally renowned poet, writer, and sociologist. She has published 27 books to date, and is the recipient of international prizes and awards, including the World Crown of Poetry, the British Council Poetry Award, and the Haifa and Bremen Literature Award. She is the Founding President of IFLAC: The International Forum for the Literature and Culture of Peace, and is the editor of its IFLAC Digest.
To learn more about Dignity Press authors, please refer to the book's web pages, by clicking on the cover images on the right.
About Us
Like our parent organization Human Dignity and Humiliation Studies, Dignity Press is a non-profit organization without paid employees. All publishing work is done by volunteers. Income from sales is shared between authors and Dignity Press, with the Dignity Press part entirely supporting the work of the World Dignity University and the Human Dignity and Humiliation Studies network.
More about us at www.dignitypress.org.